Make a Halloween Mask!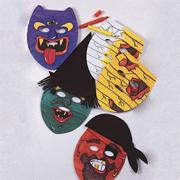 Event Type: Children's
Date: 10/15/2012
Start Time: 4:00 PM
End Time: 4:45 PM


Description:

We'll have fun creating our own masks for Halloween. Just bring along your imagination!


Location: Children's Program Room


Other Information:

This art program is for children ages 4-9. Pre-registration is required.

Presenter: Ms. Bonnie
Status: Waiting List (4 of 5)

Sorry, this event has already occurred. Please register for another event.